The Franciscan Sisters of Our Lady of Bon Secours started their mission in Sirumalai, a densely forest region of Tamil Nadu, in 2002. Sr Innasimuthu FBS tells us more:
"The entire area known as the Sirumalai Hills has neither a private nor a government hospital, and people here have neither health care nor transport facilities. What scant government medical facilities there are do not reach the tribal places. Dindigul Government Hospital, the nearest hospital, is 30 km away from Sirumalai. Those worst affected by the lack of access to health services are pregnant women. In view of the circumstances, there is a makeshift system in place that only a few women can afford, which involves them hiring a house in Dindigul itself, maybe for one month or so before delivery time. They stay there till delivery, because they know that in the town they will be assured of reaching the hospital quickly. In the Hills, most pregnant women rely on local women who have received no formal training in midwifery at all, which is far from ideal in terms of their chances of giving birth safely.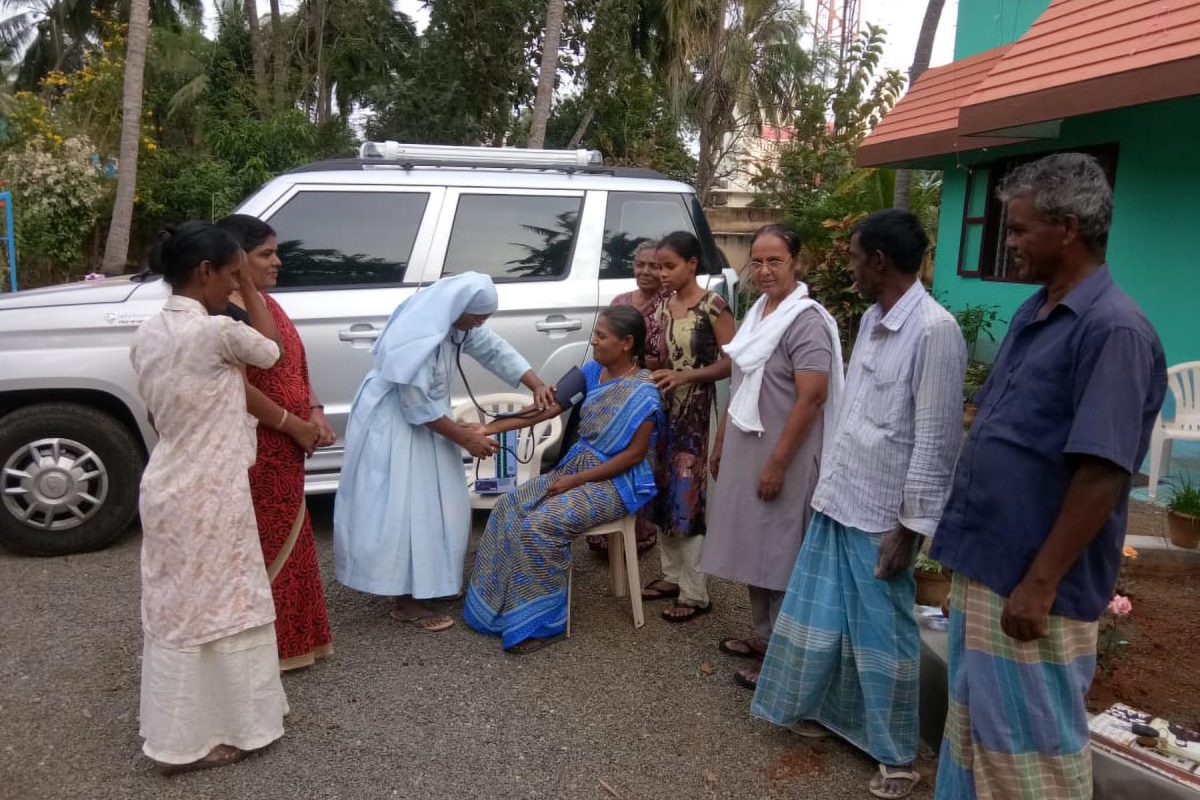 Our mission centre is 10 km away from Dindigul. Seeing the pathetic condition of people in these villages, the Sisters started organising medical outreach camps for the people especially for women. They also started organising general health awareness campaigns. Our Sisters visit the children of the Tribals in the hills at Sirumalai Pudur and Thenmalai. We give them awareness on education. We encourage and support the people to send their children to school. We have arranged Evening Study Centres in two places. We are unable to visit these villages regularly as we do not have a vehicle, but some form of transport is essential for us to continue our health and other social ministries in this hilly region."
SURVIVE-MIVA was able to help consolidate and widen the Sisters' existing work via the provision of a grant for 13,500; the rest, they took care of themselves:
"After having received SURVIVE-MIVA's grant from the Generalate, we contacted the vehicle dealer to procure the vehicle. We fixed necessary extra fittings to the vehicle, which was then registered and insured. We appointed an experienced driver, and now make full use of the vehicle daily for health and social ministry.
We are now able to visit the tribal villages on a regular basis. Our ministry is very beneficial to the pregnant women and the whole community. We create awareness on communicable and non-communicable diseases amongst the tribal people and train them on preventive measures. We also visit our tuition centres regularly and see that every child is given equal importance and can improve their academic performance. All these activities are possible now because of the vehicle. We are very thankful to SURVIVE-MIVA for its timely financial assistance which has done so much to help us continue our ministry effectively."